Orange is creativity, culture, talent and innovation. O-City Project mixes all this with a bit of technology to create a virtual world that shows the cultural and natural heritage of our cities at its best.
In this context, one of the main objectives of the project is to offer to educational centers a training program to learn how to create multimedia content about heritage that will feed the O-City platform.
👨‍💻 For this reason, after having organized two virtual photography courses and having had more than 90 participants from Spain, Argentina, Ecuador, Colombia, Mexico, Chile, Italy, Finland, Turkey, France, Romania and other countries; we can now announce that the course is already available in open format.
You can have a look at it in the link below and even download the materials you find interesting:
As you will see, the course is divided into three topics:
Photography
Sound and Script
Edition
In O-City courses, teachers:
will find open educational resources of different nature (video tutorials, pills, activities to propose to their students and creative applications for free use), to facilitate their learning and guide classroom teaching about heritage assets, the creation of multimedia elements about them and the necessary professional and personal skills to make its way into the orange economy.
will be able to select among different learning paths and customize the project in the classroom, selecting the workshops that best adapt to their classroom and to their educational circumstances.
will discover a lot of didactic elements, integrated in the multimedia projects of the classroom, to increase the motivation and introduce students in the four areas of knowledge that form the base of the orange economy.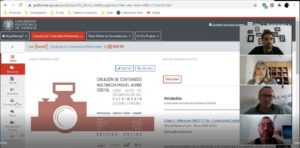 "The final goal is to carry out multimedia projects on the cultural or natural realities of your cities"

Nacho Yusim, Photography course teacher
You can already navigate in the O-City World Platform to see the cities, the heritage elements and the multimedia contents developed by the project partners and by the attendants of both virtual photography courses. Now that you have the course at your disposal, it is time to include your city, your natural or cultural heritage element and your audiovisual project based on photographs!
Enter here, see what we have done so far, register and propose your patrimonial element:
For example, you can see what Valentina Re from Link Campus University has done about  the city of Bologna, which has allowed us to know the Piazza Maggiore and the Film Festival without leaving our seat.