[Spanish]
Dear Colleague,
I am writing to briefly explain the O-City project. Throughout the letter you will find links to different resources where you can learn more, if you need to, about different aspects of the project.
Technical Data:
The O-CITY (Orange: Creativity, Innovation & TechnologY) project has been developed within the framework of the European Erasmus+ (Knowledge Alliance) programme. It has received funding of €992,472 and its implementation period runs from 1 January 2019 until 31 December 2021. 13 partners from 6 different countries (Spain, Italy, Greece, Serbia, Slovenia and Colombia) have worked during this period led by the UPV (Universitat Politècnica de València – Spain).
High Concept:
O-CITY is a digital atlas of natural and cultural heritage to promote responsible tourism, education for sustainable development and the orange economy in cities around the world.
Project Challenges:
The project has three main objectives.
The digital transformation of traditional economic sectors through the training of professionals and the economic promotion of cities by means cultural and natural tourism.
The introduction of innovative educational tools through training plans in both professional and personal skills designed to facilitate the work of teachers in their classrooms.
The discovery and promotion of the culture, heritage, traditions and natural environment of the world's cities.
In short, O-City is a citizen participation project, where smart destinations, through their educational system, offer their own citizens the possibility of contributing their point of view in multimedia format, on the natural and cultural heritage of the city, without renouncing the rigour required for public information (available to tourists) on the destination.
Video "I want to tell you a story…":
But, for sure, the best way to learn about O-City is through Vera's video. Be sure to watch it, it's just over 7 minutes long and the video is based on real stories:
[Spanish, French, Italian, German,  Serbian, Chinese]
In addition, we have realised that one of the things that cities like the most is the possibility that O-City gives them to export their heritage data to other applications, through an API. In this way, there are cities with tourism apps that use O-City data, along with data from restaurants, hotels, events, entertainment, etc., to offer their tourists a comprehensive experience in the destination.
Tools Developed:
As you have seen in the video, to meet the three challenges of the project, which I have described in advance, we have developed two tools:
The world of cities O-City.org, a responsive web application to visualise the natural and cultural heritage of cities. This application (distributed management) involves different actors such as municipal public managers, university managers, teachers, etc.
The O-City educational platform for teachers, which offers courses (MOOC) in 4 training modules in business, technical (multimedia), cultural and soft skills.
The O-City project could not be understood without these two tools operating together:
on the one hand through the training plans, students from different cycles can develop multimedia projects in their classrooms (photo, video, podcast, animation, comic, infographics), led by their teachers, on natural and/or cultural heritage elements of their own cities;
and on the other hand, the reward for a job well done is to be able to exhibit these works on the World of Cities platform, where everyone can see them and learn from them.
And the latter, you will agree with me, is a very powerful motivational element for teachers in the classroom.
O-City Training Programme (Video):
You will see that we have approached the training of future orange economy professionals from an integral point of view, i.e. combining teaching and learning in different areas of knowledge, while stimulating teamwork. This is because we believe that a professional in this 21st century sector, in order to integrate into the labour market or to create their own company, will need technical knowledge as well as business and cultural knowledge and, of course, soft skills.
But the best thing to do is to watch this VIDEO where our training programme is explained in detail: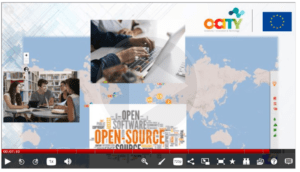 [Spanish, French, Italian, German, Serbian, Chinese]
Accreditation of competences and certification of knowledge:
Finally, before I finish, I would like to explain the issue of the certifications we are going to offer. In the case of the students who participate in the project, it will be the teachers who will validate the competences acquired, through simple forms that they will fill in when they upload the multimedia to O-City.org. In this way, students will be able to complete their digital curriculum as they carry out different projects and earn badges that accredit the competences acquired.
Teachers who complete any training course will be able to obtain, firstly, a certificate of achievement from the UPV Lifelong Learning Centre and, secondly, a EUROPASS certification from the EU.
I hope that this little summary, I have given you about O-City, has helped you, but what I value most is that you have found the project attractive enough to start it up in your city. I leave you my email in case you have any questions.
Sincerely
José Marín-Roig Ramón
Project Manager
o-city@epsg.upv.es
PS: You can browse our BLOG to find more information in the "Discover what O-City can do for you" section or meet our partners in the "Partners" section.